If you're looking for a way to make healthy and nutritious snacks without spending a fortune, then a blender processor combo is the perfect solution. Not only are these combos extremely versatile, but they're also incredibly cost-effective. So, if you're a fitness enthusiast who wants to save time and money while making delicious and nutritious meals, read on to find out which blender processors are best for you!
What Is the Best Food Blender Processor Combo?
The best food processor blender will be the one that suits your needs. Do you need a combination that fits easily into a small space? Do you need one with several food processing attachments and sharp blades for crushing ice and grinding coffee beans? Or do you need a simple product at an affordable price that takes up little counter space?
We've listed some of the best blender and food processor sets below, so you can read through the highlights and pick the best one for your fitness lifestyle.
Benefits of Blender Food Processors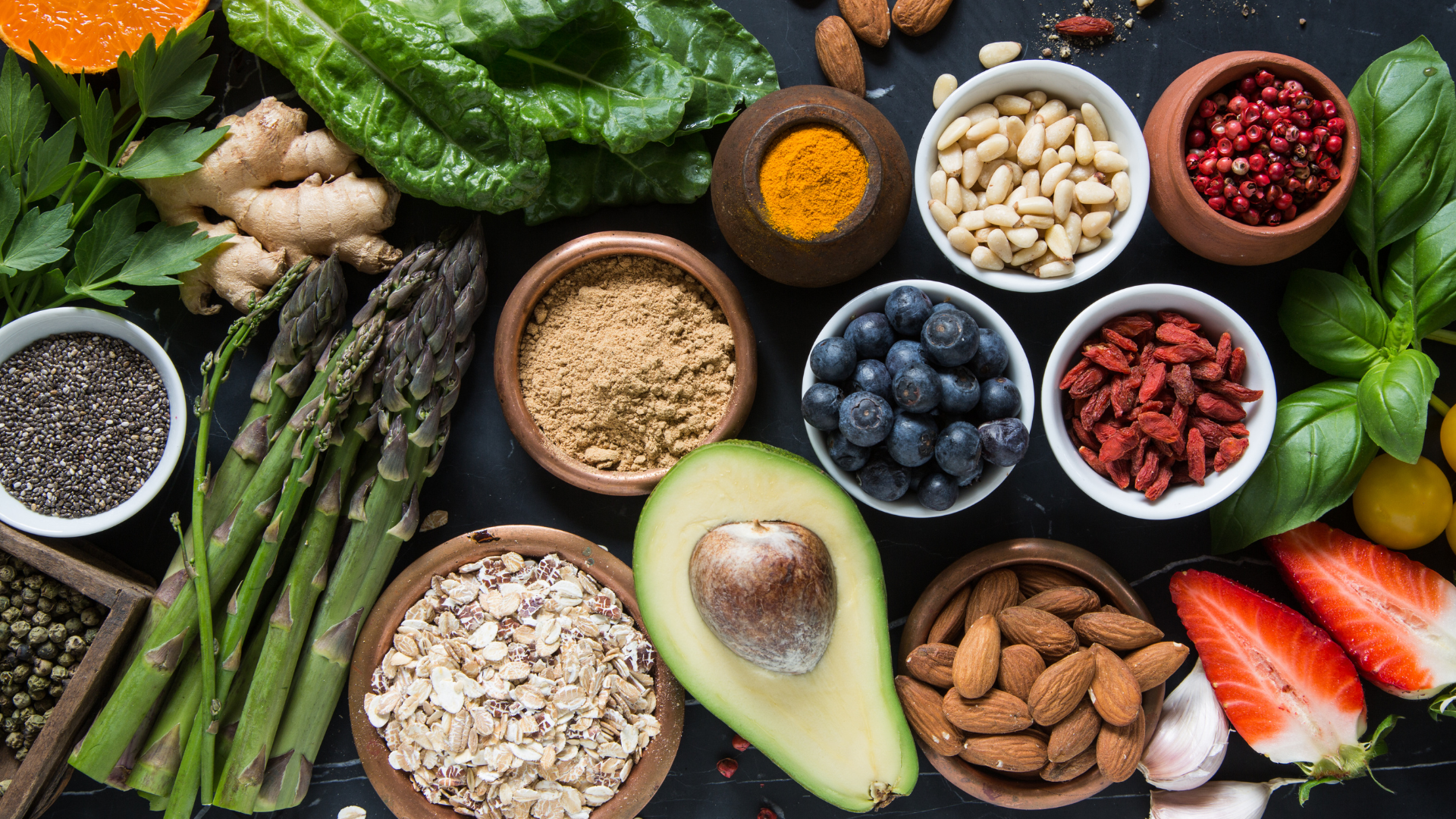 A blender food processor combination is a great addition to any kitchen. Not only does it save time and effort from having to use two separate appliances, but it also allows for greater versatility when preparing food. With a single machine, you can make an array of different dishes, such as smoothies, purees, hot soups, sauces and dips.
Let's dive into some of the best blender food processor combos available.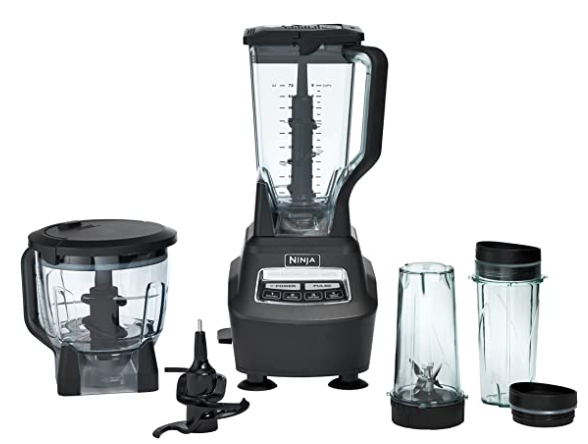 This all-in-one blender has an incredible power base with an astonishing 1500 watts of power that makes quick work of any food processing job.
Its 72-ounce pitcher also allows for large batches of smoothies and more. Plus, it comes with two single-serve cups that allow for personal blending jobs, as well as a food processor bowl with a slicing disc and chopping blade attachments that allow you to chop veggies and more with ease.
Top Features
Frozen fruits and frozen ingredients don't stand a chance in this Ninja kitchen system. Its powerful blades turn ice into snow in seconds for blending smoothies without chunks.
Use 1500 watts of performance power to tailor your experience.
Kneading dough? Toss it in the Ninja blender with the dough blade! This system makes up to two pounds of dough in just 30 seconds. Save your muscles for the gym.
Use raw foods and slice, chop, and dice as needed for your nutritious whole-food recipes.
Pricing
The cost of this multipurpose appliance can range depending on where you purchase it, but it usually sits around $295.00 CAD.
Bottom Line
If your kitchen goals include one appliance that can handle countless recipes, the Ninja Mega Kitchen System is a great choice.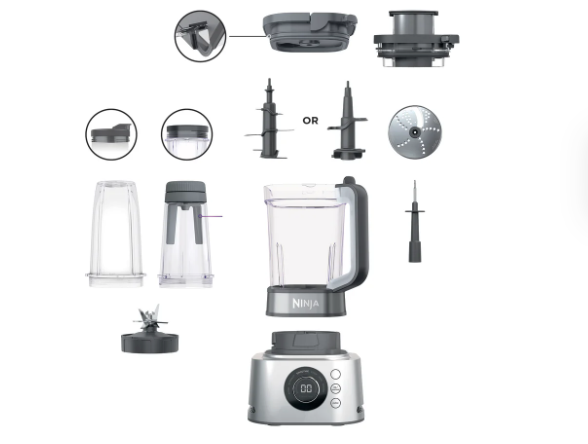 The Ninja Foodi Power Blender is a complete kitchen appliance giving you the freedom to chop, grind, blend, slice, and shred in one convenient system.
Top Features
Ninja's proprietary Hybrid Edge™ Blade breaks down whole fruits and veggies, nuts, seeds, and ice for the smoothest outcomes.
The XL smoothie bowl lets you prepare enough for you and your workout buddy.
6 auto-preset options to easily decide which processor you need: smoothies, spreads, food processing, dough, and more.
All containers, lids, discs, and blades are dishwasher safe for the easiest clean-up.
Pricing
This highly-reviewed food processor and blender combo costs $259.99 CAD.
Bottom Line
If your kitchen lacks a blender and a food processor (or you need to upgrade your current appliances), the Ninja Foodi Power Blender gives you great value. This product will be the only one you need to handle all your healthy concoctions.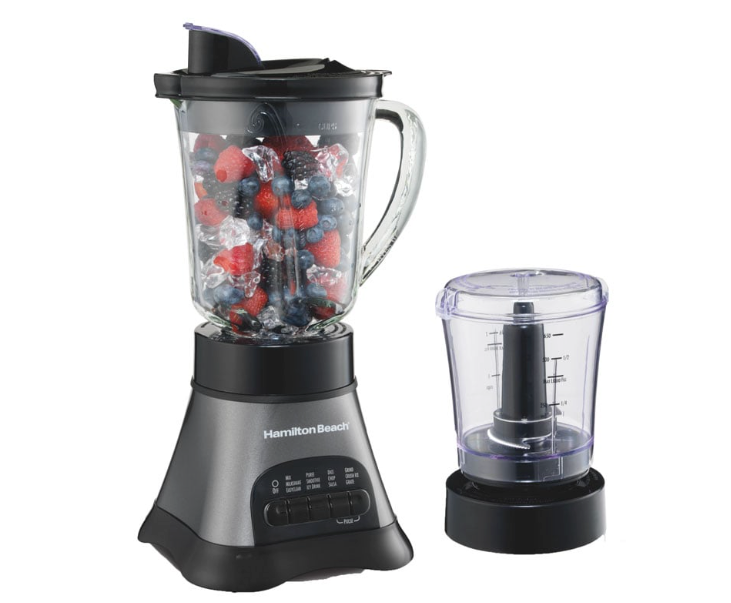 The Hamilton Beach Blender/Chopper with Wave Action® allows you to create sweet smoothies, savoury spreads, and so much more using its two pitcher options and stainless steel blades.
Top Features
Wave Action® is a revolutionary blending technique that continuously pulls mixtures in the blades yielding smooth results every time.
This set includes a 40-ounce thermal-resistant glass pitcher and a 24-ounce chopping cup.
Choose from two blending speeds or pulse setting to mix your creations.
Additional features: stainless steel chopping blades, cord storage, and 700-watt peak power motor.
Pricing
This 2-in-1 appliance is an excellent budget option costing $99.99 CAD.
Bottom Line
Hamilton Beach Blender/Chopper does what you need without the bells and whistles. It won't overwhelm you with blending options. Make a smoothie and clean up in minutes; how could you go wrong?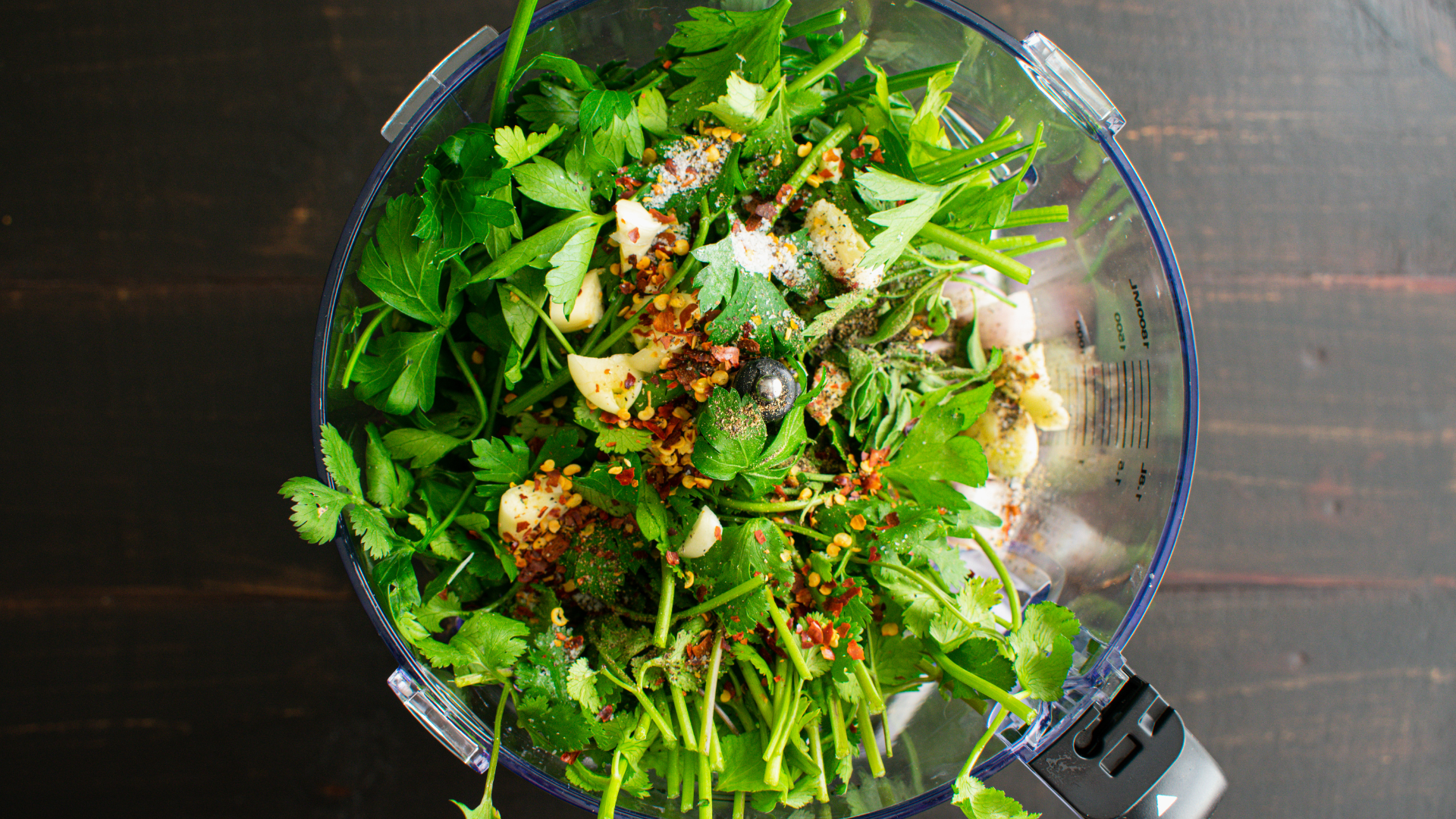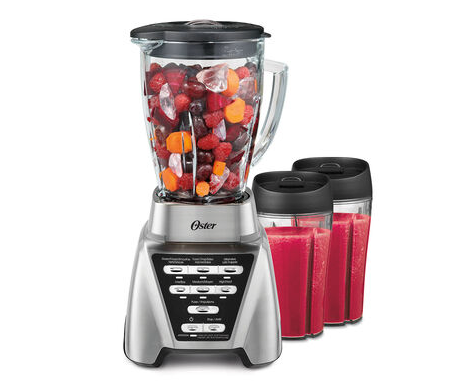 The Oster Pro 1200 Blender Food Processor Combo is a must-have for anyone who wants to quickly and easily prepare a variety of dishes. Whether you're whipping up smoothies or sauces, blending batters for homemade pies, or grinding nut butter for your family's favorite snack, this appliance has you covered.
It seamlessly combines the functions of a traditional blender and food processor into one device, practically eliminating the need to have separate attachments on your countertop. Plus, it features powerful stainless steel blades that can handle however much preparation your recipes call for. With this Oster blender in your kitchen, any cuisine is now within reach!
Top Features
This set includes a 5-cup BPA-free food processing bowl and a 24-ounce Blend-N-Go® cup.
Choose from 7 preset speed settings to take the effort out of your meal preparation.
The stainless steel blades and slicing disk run on Dual Direction Blade Technology™ for extra blending power to precisely chop and grind.
All parts except the blender base are dishwasher safe for simple clean-up.
Pricing
This multipurpose appliance is a great bang for your buck at $159.99 CAD. Check Amazon for deals!
Bottom Line
For people who make their own salsas, salad dressings, smoothies, soups, and pretty much everything else, the Oster Pro 1200 system meets all your needs. It's a win for us!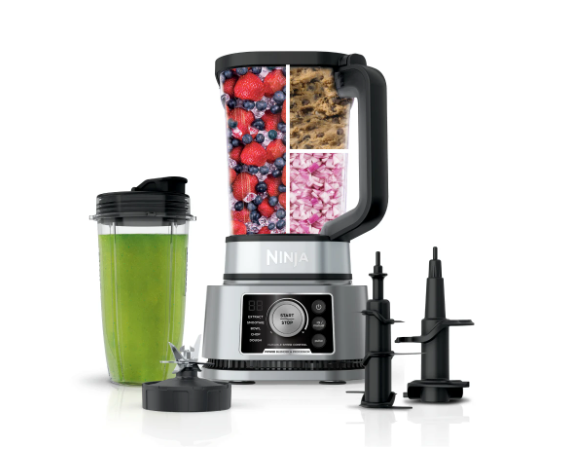 Ninja is a household name when it comes to blenders, and for a good reason. We've already listed their top option for a complete food processor/blender system, but if you can't stretch your budget that far, the Ninja Power Blender and Processor System is an awesome alternative at a lower price point. It's designed for flexibility and convenience.
Top Features
This set includes a 1200-watt power-dense motor.
Choose from the 72-ounce pitcher for large quantities and the 24-ounce nutrient extraction cup for thick smoothies and juice-like drinks.
Blend, chop, mix, and pulverize your concoctions with Ninja's Total Crushing® chopping blade and dough blade.
Five preset programs for one-touch smoothies, extractions, bowls, chopping, and kneading dough.
Pricing
Get this set into your kitchen for $199.99 CAD.
Bottom Line
Take the effort out of creating in the kitchen. Ninja's Power Blender and Processor System allows you to quickly make your shake (and more) with its preset programs. You can even make dough with this system!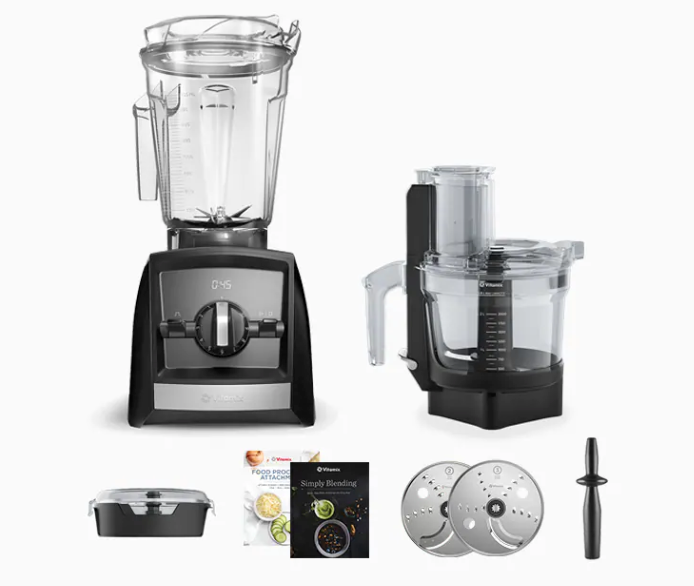 We wouldn't have a list of the best food processor/blender combos without mentioning Vitamix. Yes, it's on the pricier side, but the quality matches the price tag.
With the Vitamix Smart Prep Kitchen System, you have everything you need for food prep, from bread dough to soups to protein shakes and everything in between.
Top Features
The food processor attachment shortens the time you need to spend chopping and dicing your veggies so that you can make quick, easy meals.
Fine-tune your mixtures with the variable speed settings and pulse feature.
Depending on the container size you attach, the Smart Prep Kitchen will adjust program settings and blend times.
Several Vitamix container attachments are compatible, so you can acquire the ultimate kitchen system with everything you need.
BPA-free and dishwasher-safe.
Pricing
Are you sitting down? This ultimate Smart Kitchen Prep System from Vitamix costs $799.95.
Bottom Line
If you invest in the Vitamix Smart Prep Kitchen System, you likely won't have to replace it for a long time. You might end up tossing the rest of your food prep utensils because this system really does it all.
What to Consider when Choosing the Best Blender Food Processor Combo?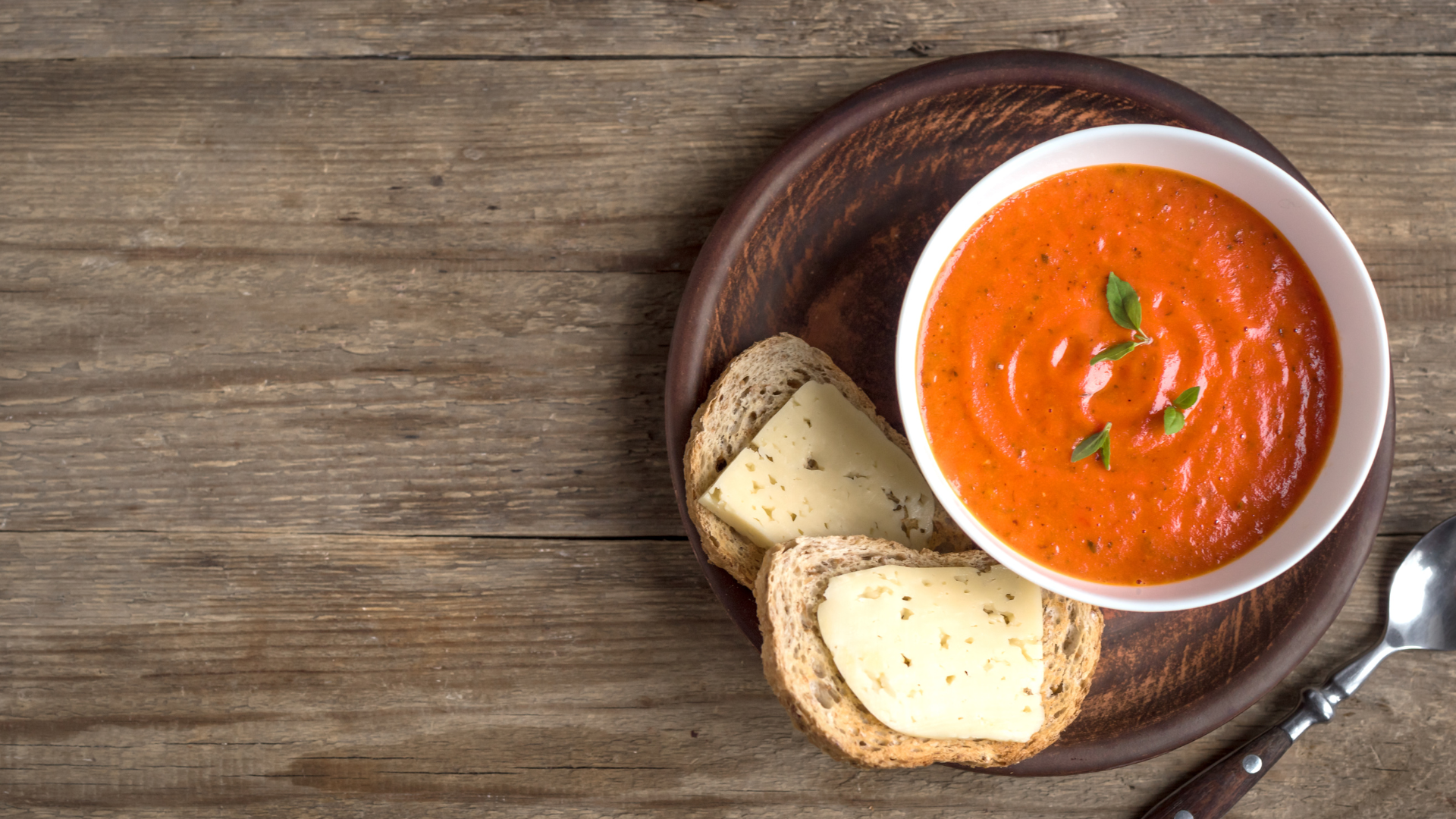 The best food processors perform the intended task effectively and meet your needs easily. The size of the unit is a key factor for comparing its price and performance, including motor power, lid and feeding tube options, blades and accessories. Let's look at some different factors to consider when you're shopping for a food processor/blender.
Food Processor vs. Blender
A food processor is a necessary component of an amateur cook's kitchen arsenal. These small appliances have some common characteristics, although they vary from other appliances.
Blenders are designed for mixing and blending liquids with dry or frozen products — any concoction you make in a blender requires some form of liquid.
Food processors perform various tasks, from cutting veggies to shredding cheese to mixing dough. You don't need a liquid component to use a food processor.
Both appliances feature a sharp blade that breaks up and processes food. The food processor uses large shallow plates, while blenders use tall, shallow pitchers.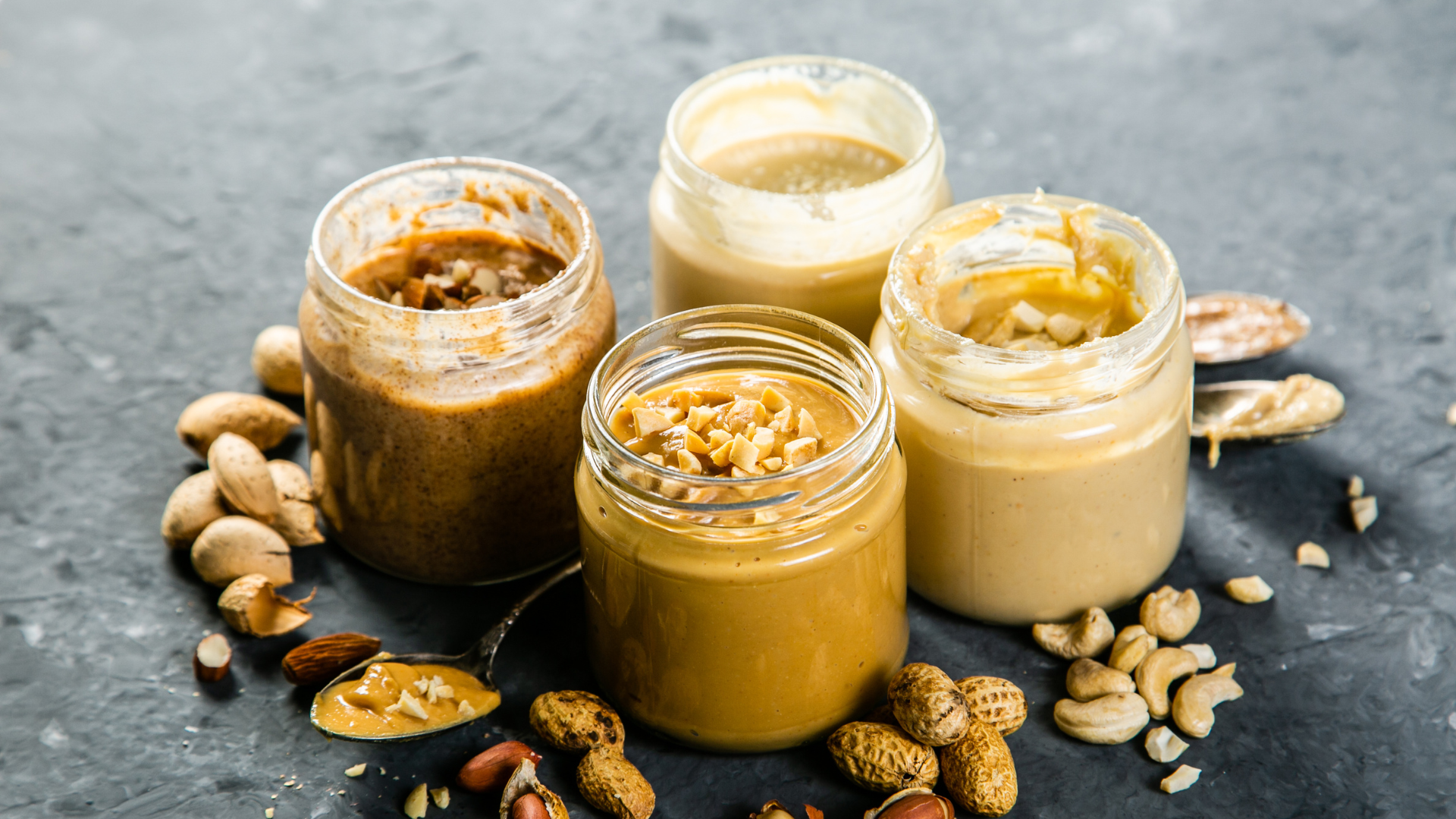 Blades
Blades are the most critical parts in a machine that blends or chops. It's generally best to choose a stainless steel chopping blade; however, the shape is equally important.
A food processor attachment usually comes in X- or S-shaped blades. The X-styled knife is generally most effective during the typical mixing process. A cylindrical blade can be used to chop and mix in pulse mode, but it can also be effective in mixing. A third blade is provided in the kneading process, as well as disc attachments to slice and grate.
Attachments
In most kitchens, blender/food processor combos are equipped with various tools, including blender jars, blender bowls and food processing blades.
The most efficient food processors also feature special cutters. Blenders include different-sized blending devices ranging from single smoothies on the go to small chopping cups. Various food processer attachments can also provide discs that are specific to certain functions, including cutting and peeling.
For those who want to make fresh juice, citrus juicer attachments are typically sold separately.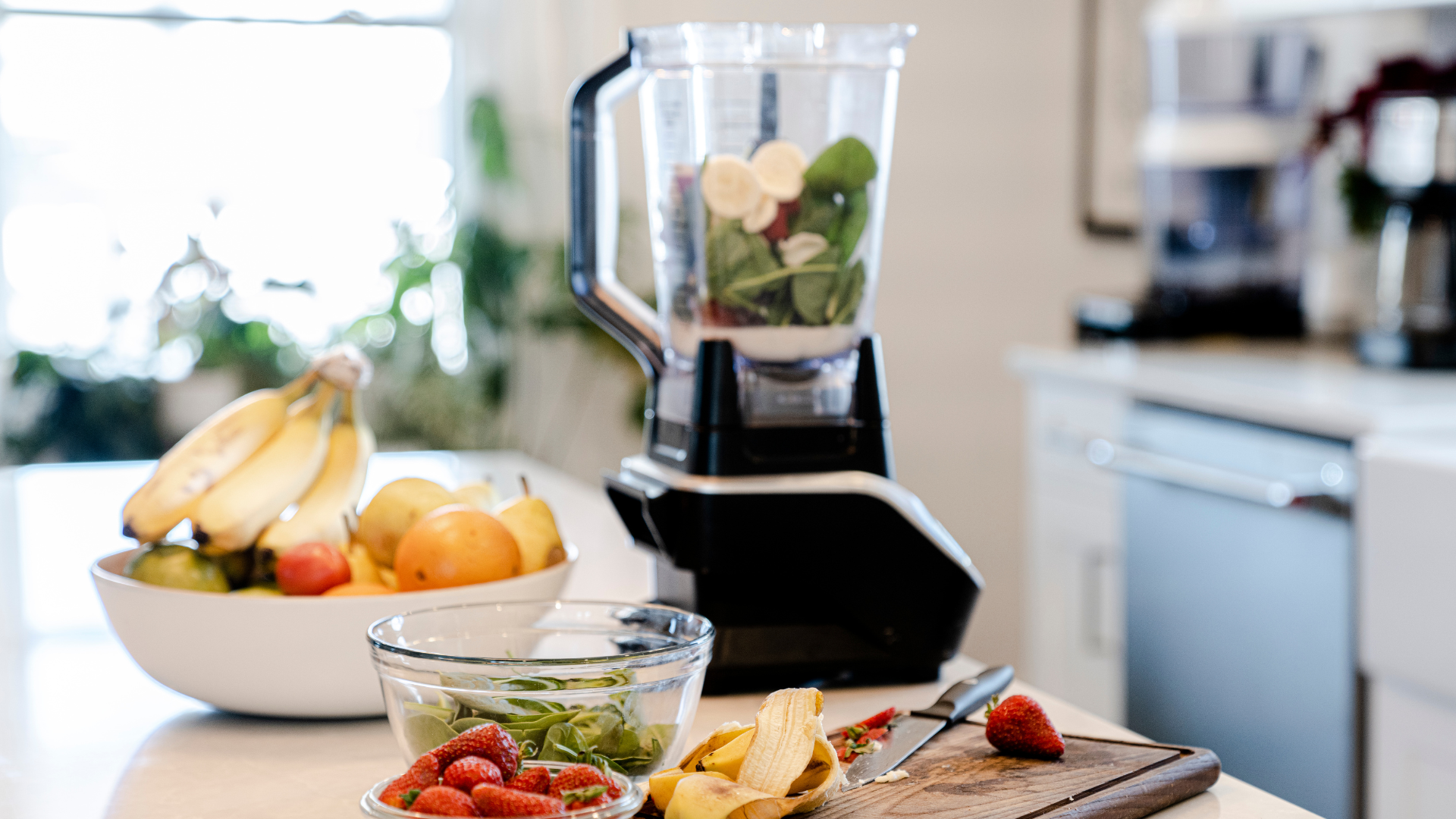 Motor Power
Depending on which machine you use, watt power will determine whether or not it will run fast and efficiently. Usually, a blending or chopping machine is between 350 and 1500 watts, while a blender typically requires more horsepower. Machines with high outputs are more productive than lower-powered options. If you want a way to crush ice and grind coffee beans, then search for systems that can handle up to 1000 watts of power.
Size & Bowl Capacity
A blending food processor kit consists of several sized blender jars — you need to determine what you'll use it for and choose the sizes accordingly. Machines ranging in size are often significantly different: blender containers typically hold 24 ounces, 32 ounces, 48 ounces, and 64 ounces. Food processor bowls come in various sizes, from 6 to 16 cups.
Configuration
Some users prefer manual control of blending and processing, and some prefer preset features to avoid guesswork. These choices include automated programs for time and speed to ensure things like milkshakes, iced drinks, and salsa come out as the perfect consistencies.
Other useful functions include overheating protections and self-cleaning settings.
Lid & Feeding Tube for Food Processors
The feed tube in the food processing equipment acts as a food chute to add the ingredients. If you want to cut down on prep time, choose a product that handles various shapes and sizes of ingredients. Also, adding a shredding or cutting disc to a feeding tube yields a better cut.
The lid should remain securely in place but not be too heavy. It usually comes equipped with rubber seals to prevent leaking.
Controls
A blender food processing system can come with touch-sensitive buttons or a manual knob control. Some basic devices feature an off button, variable speed options, and pulse options, which are all necessary for food processing. Find backlighting or LED indicators to provide additional bonus options.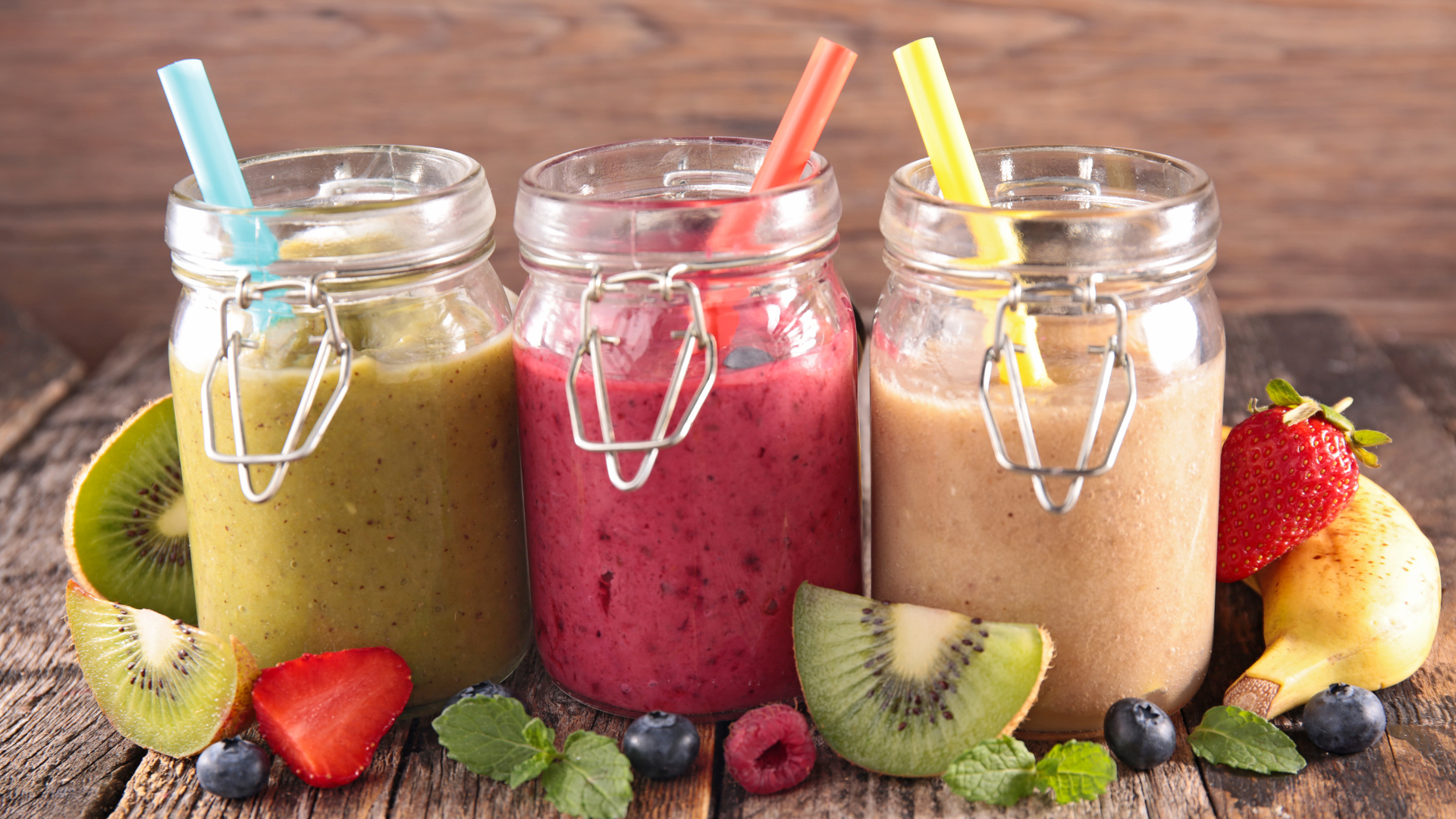 Why Should You Buy a Blender and Food Processor Combo?
A blender food processor combo is a kitchen appliance that combines the functions of a blender and a food processor in one machine. There are several reasons why you might consider purchasing a blender food processor combo:
Versatility: A blender food processor combo allows you to perform a wide range of tasks in the kitchen, including blending, pureeing, grinding, chopping, and shredding. This can be especially useful if you have limited space in your kitchen and want to consolidate your appliances.
Convenience: With a blender food processor combo, you don't have to switch between appliances to complete different tasks. This can save time and effort when preparing meals.
Cost savings: Buying a single appliance that performs the functions of both a blender and a food processor can be more cost-effective than purchasing both appliances separately.
Performance: Some blender food processor combos are designed to perform at a high level, with powerful motors and advanced features that can handle a wide range of tasks with ease.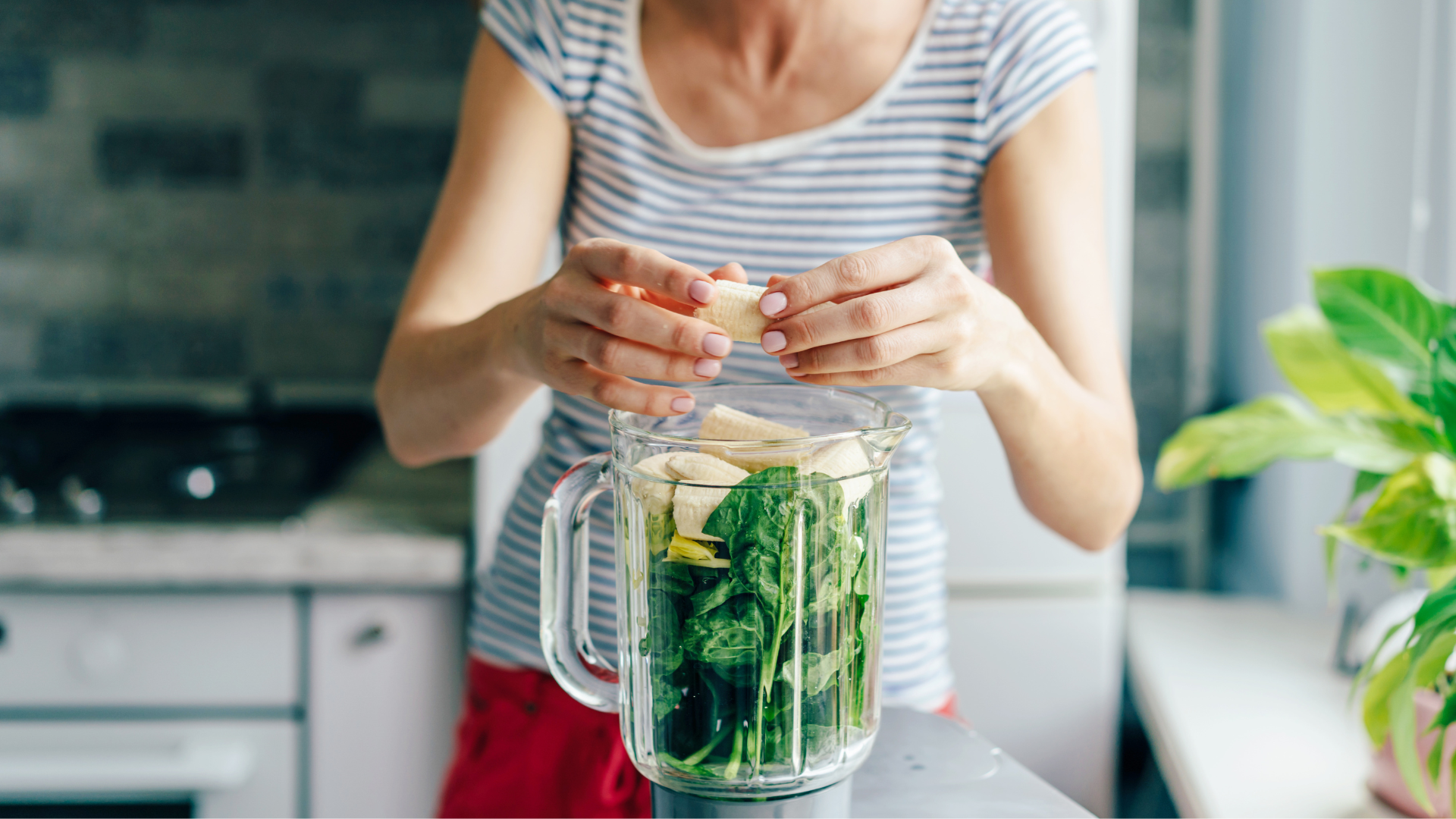 Overall, a food processor blender combo can be a useful and convenient addition to any kitchen. No matter what your fitness goals are — losing weight, building muscle mass with a personal trainer, or just staying healthy — a good food blender processor combo is essential for making quick yet nutritious meals and snacks in no time at all.
With these top combos on your side, you'll be well-equipped to reach your fitness goals faster than ever before.
Wrap Up
Whether you're just starting out in the world of fitness or are an experienced gym rat looking for new ways to save time in the kitchen, these blender processor combos are sure to be your new best friend.
With their unbeatable power and versatility, these appliances will revolutionize the way you prepare your meals so that you can spend less time in the kitchen but still get all the nutrition benefits from fresh ingredients in every bite.
So what are you waiting for? Invest in one today and start creating delicious treats without breaking the bank! And when you're not sure what to create to achieve your health goals, get in touch with our certified pros at EverFlex to get on the right track.