Nothing feels better than getting a good night's sleep! Now, with the integration of technology, smart beds and mattresses can help you achieve the comfort and support you've been dreaming about.
Sleep is an essential part of health and recovery. When you sleep, your brain has a chance to slow down and focus on recovery processes, so you can wake up ready for the day with improved mental and physical performance.
If you're looking to improve your sleep to help your body recover properly to achieve your fitness goals, check out our top 4 picks for the best smart mattresses.
What Is a Smart Mattress?
A smart mattress is a type of bed that incorporates advanced technology and smart features to improve the overall sleeping experience. These mattresses typically come equipped with sensors, microphones, speakers, and other components that can monitor and analyze various aspects of the sleeper's movements, breathing, heart rate, and sleep patterns.
They can also adjust the bed's firmness and temperature, provide customized sleep coaching and suggestions, and even connect to other smart home devices. With their ability to gather and provide insightful data on sleep quality and offer personalized solutions, smart mattresses have gained popularity among people seeking to optimize their sleep and overall health.
The Top 4 Best Smart Mattresses & Smart Beds
If you're looking to increase the comfort and support of your mattress in a way that's optimized for you, check out the top smart mattresses and smart beds on the market today, including:
Saatva Solaire Adjustable Firmness Mattress
The Eight Sleep Pod 3
Ghost SmartBed
The Casper Wave Hybrid
These mattresses offer a variety of advanced features such as temperature regulation, sleep tracking, and personalized adjustments for maximum comfort and support. It's important to remember the best smart mattress for you will depend on your personal preferences and sleep needs. With advanced technology comes a higher price point, but many have long-term warranties and you can think of it as an investment in your health and longevity.
Overview
The Saatva Solaire is an adjustable firmness mattress that allows sleepers to tweak the level of firmness to their individual preference using a remote control. It has five adjustable zones that provide customized support to the head, shoulders, lumbar, hips, and legs.
The mattress is made from high-quality materials, including organic cotton, memory foam, and air chambers, which work together to provide exceptional comfort and support. The air chambers are designed to allow for quick and easy adjustments to the firmness level, while the memory foam helps to alleviate pressure points and promote spinal alignment.
Benefits
50 firmness settings
Memory foam layers provide back support and pressure relief
Test out the mattress with a 365-night home trial
Price
Full: $2,945
Queen: $3,195
King: $3,645
The Bottom Line
You can experience the comfort of The Saatva Solaire for a whole year to see if it's the right mattress for you. If not, no sweat! You can send it back. This mattress is a great option for those seeking a customizable sleep with 5 adjustable support settings and 50 firmness settings. Not to mention, free in-room delivery and set up. That's the kind of convenience you can have sweet dreams about.
Overview
The Eight Sleep Pod 3 is a high-tech smart mattress that uses advanced technology to provide a personalized and comfortable sleep experience. It is designed to track and analyze a variety of sleep data, including sleep stages, heart rate, and breathing rate, using sensors embedded in the mattress.
The mattress then uses this data to adjust the temperature of the bed, helping to promote optimal sleep conditions. The Eight Sleep Pod 3 also has a built-in smart alarm that wakes users up at the optimal time based on their sleep data, and can connect to other smart home devices to create a fully integrated sleep environment.
Benefits
Sleep tracking and actionable feedback provided by a digital coach to better your sleep habits
Individual cooling and heating for each side of the bed
Library of meditation and sleep sounds
GentleRise vibration alarm to silently wake you up
Multiple layers of memory foam with an active cooling layer to provide comfort and support
Price
Full: $4,045
Queen: $4,445
King: $4,945
The Bottom Line
The Eight Sleep Pod 3 comes with a 100-night sleep trial and a 10-year warranty. This is a great option for those seeking a high-tech and personalized sleep experience.
Overview
The Ghost SmartBed 3D Matrix is a high-tech mattress designed to provide a personalized sleep experience using advanced technology and innovative materials.
It includes a range of smart features that allow users to customize their sleep experience, like an adjustable base that can be controlled using a mobile app, allowing users to adjust the bed's position, massage settings, and more. The mattress also has sensors that monitor the sleeper's heart rate, breathing, and movement, and can provide feedback and recommendations for improving sleep quality.
Benefits
Unique 3D matrix layer made from gel-infused memory foam and latex foam, designed to provide both pressure relief and support
Designed to regulate the sleeper's temperature throughout the night
Durable and long-lasting
Pairs with an easy-to-use app that allows you to control the bed and analyze sleep stats
Price
The Bottom Line
Overall, the Ghost SmartBed 3D Matrix is a cutting-edge mattress that combines advanced technology with innovative materials to provide a highly personalized sleep experience. Though its price tag is on the high end, its smart features and durable construction make it an excellent choice for those who value high-quality sleep and are willing to invest in a top-of-the-line mattress.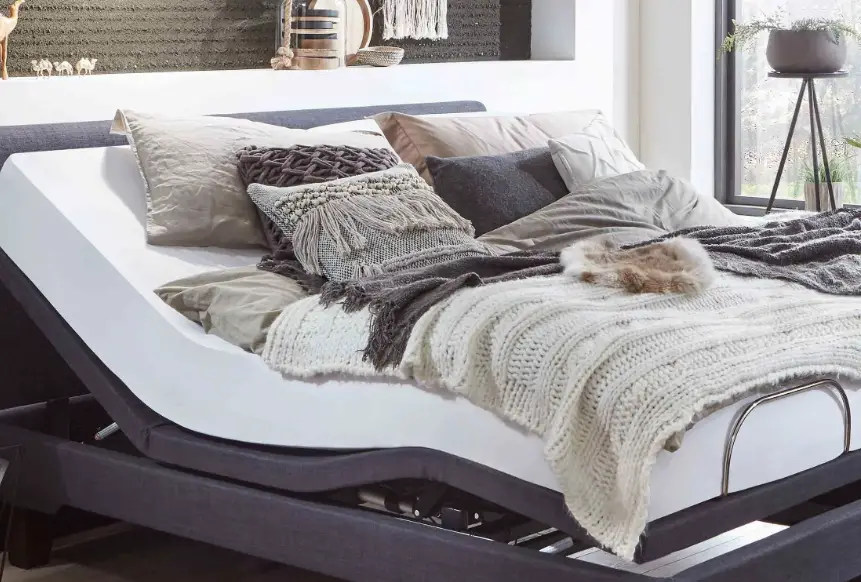 Overview
The Ergomotion 330 Adjustable Bed is designed to provide a comfortable and customized sleeping experience. It offers various ergonomic features that allow you to adjust the position of the bed according to your preferences.
The bed has a pre-set "zero-gravity" position that elevates your legs and head above your heart, which can help reduce pressure on your lower back and promote better blood flow.
The wireless remote control allows you to adjust your head and foot positions with ease, and also has a massage function to provide soothing vibrations to help you relax and fall asleep. The massage function has 3 intensity levels and 4 different massage modes to choose from.
Benefits
Experience the zero gravity or lay flat position with the touch of a button
3 massage levels with 10, 20 or 30 minute timer
Lift capacity of 850 lbs
Available in twin XL, queen, king, and slip king sizes
Price
Twin XL: $2,399.99
Queen: $2,599.99
King: $3,299.99
Split King: $4,799.98
The Bottom Line
Overall, we believe the Ergomotion 330 Adjustable Bed is an excellent choice for anyone who wants to enjoy the benefits of a fully adjustable smart mattress. With its advanced features and customizable settings, it provides a comfortable and personalized sleeping experience that can help improve your overall health and well-being.
What Are the Benefits of Using a Smart Mattress?
There are several benefits to owning a smart mattress. Smart mattresses have the ability to monitor and analyze sleep data, providing insight into the quality of sleep and identifying any patterns or issues that may be impacting sleep quality. This can help individuals make adjustments to their sleep habits and improve overall sleep health.
Smart mattresses can also adjust the firmness and temperature of the bed to optimize comfort levels for each individual, leading to a better sleep experience, and may help alleviate pain or discomfort caused by a traditional mattress.
Many smart mattresses have connectivity options, allowing them to integrate with other smart devices, such as lights or smart home assistants, to create a cohesive and convenient sleep environment.
Smart mattresses have the potential to improve sleep quality and overall health, making them a worthwhile investment for many individuals.
Get a Better Night's Sleep
You may have heard it said, it's worth investing in a good pair of shoes and a good mattress, because when you're not in one, you're likely in the other. Investing in a smart bed or smart mattress can offer numerous benefits, including improving sleep quality and overall health.
The advanced sleep systems of the top 4 smart beds and mattresses we've chosen offer a range of features such as:
Adjustable firmness
Temperature control
Personalized sleep tracking
Relaxing massage features
And more
By providing personalized support and comfort, these mattresses can reduce discomfort and pain, decrease tossing and turning, and promote deeper, more restful sleep. Investing in a high-quality sleep system can help you achieve your health goals.
If you're looking for ways to improve your overall well-being, reach out to the team at EverFlex Fitness. We offer personal training, nutrition, and recovery programs so you can level up your personal best!