Electrolytes are essential, electrically-charged minerals found in our blood and other body fluids. Electrolytes play important roles in an abundance of different processes that are critical to health, such as regulating fluid balance (hydration), muscle contraction, nerve conduction, and supporting energy production. Key electrolytes include sodium, potassium, calcium, magnesium, chloride, phosphorus, and bicarbonate. 
When Do You Need to Replenish Electrolyte Levels?
We replenish our electrolytes every day through the foods we eat or through something like a sports electrolyte drink. We naturally lose electrolytes through sweat, tears, urine, stool, and menstrual bleeding. Replacing lost electrolytes and fluid is important after exercise, since we lose electrolytes in our sweat, particularly sodium, potassium, and magnesium. 
Depending on the individual and type of activity, replenishing electrolytes before, during, and/or after exercise can be helpful. In general, more electrolytes are lost as exercise increases in intensity and duration. Other situations that may require electrolyte replenishment include being in hotter temperatures, experiencing dehydration, or certain health conditions. 
How to Get More Electrolytes Naturally
Fruits, vegetables, nuts, seeds, and many other nutrient-dense foods contain electrolytes. Some foods have higher quantities of electrolytes than others. Choosing a variety of whole foods every day can help you meet your electrolyte needs naturally. 
Fruit is more likely to be higher in potassium and magnesium than other electrolytes. Although this is a great source of electrolytes, it's unlikely to meet the daily requirements through fruit alone. Most fruits are very low in sodium, but luckily there's no shortage of other options for meeting sodium needs. 
Why Get Electrolytes from Fruit?
In addition to providing potassium and magnesium, fruit is also an excellent source of numerous antioxidants. Antioxidants are compounds that help protect the body from oxidative stress and the harmful effects of free radicals. Some antioxidants found in fruits include vitamin C, vitamin E, beta carotene, flavonoids, lycopene, anthocyanins, and more. There is some evidence that antioxidants may increase exercise performance and improve recovery after a workout. 
The high water content of fruit contributes to hydration. The water content of most fruits is within the range of 70-92 percent. It's important to have an adequate balance of water and electrolytes for proper hydration. 
The easy digestibility and carbohydrate content of fruit makes it a great pre-exercise and post-exercise fuel that provides energy but doesn't weigh you down.
Fruit juices also contain the electrolytes found in whole fruits. Fruit juice is typically higher in calories and sugar and lower in fiber than whole fruits. Individualized goals will determine whether fruit or fruit juice is preferable. Fruit juice may be a great option during exercise as a quick carbohydrate and electrolyte source.
All these factors together make fruit a great option to help you meet your electrolyte needs.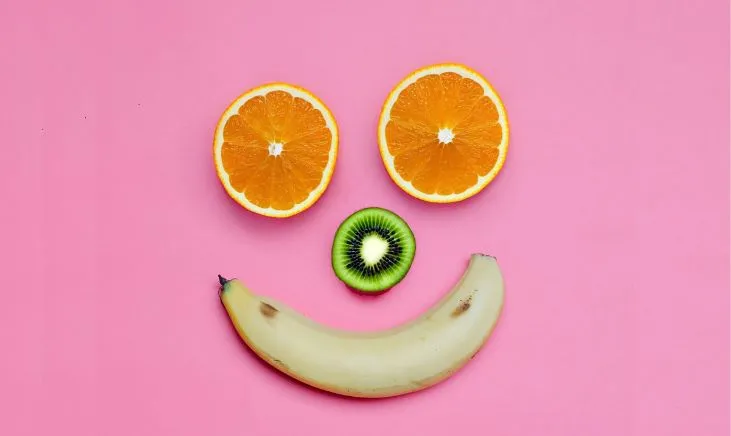 How Much of Each Electrolyte Do You Need?
Individual needs will vary based on lifestyle, age, sex, and health conditions. The following guidelines are from the Dietary Reference Intakes (DRIs), but always consult with your doctor if you have a specific health condition that requires you to consume different quantities. 
There are risks of consuming too little electrolytes, as well as too much. Some electrolytes have larger ranges and margins of error for safe consumption than others. 
Sodium: For adults, the recommended daily allowance (RDA) is 1200-1500 mg depending on age group, and it's encouraged to consume no more than 2300 mg. However, sodium needs vary between individuals and lifestyle factors such as climate and exercise quantity. For the average active person, meeting the dietary guidelines for sodium is usually sufficient, and on average, people are consuming more than that. Athletes may have more individualized needs for sodium depending on their training and personal health factors. Because sodium plays a role in blood pressure, individuals with hypertension may aim to decrease sodium intake. 
Potassium: The amount of recommended potassium per day is 3400 mg for males, and 2600 mg for females. Potassium is commonly underconsumed in the average diet. Luckily, many fruits are a great source of potassium. Potassium can help improve blood pressure by helping to balance out sodium. 
Magnesium: Daily recommendations for adult women are 310-320 mg, and 400-420 mg for men. Magnesium intakes are often observed to be low in the general population. In the United States, magnesium intakes have been found to be low in a substantial portion of the population. Magnesium can be found in a variety of whole foods, including dark leafy greens, whole grains, and seeds. 
Calcium: Daily calcium recommendations differ depending on the population. The recommended dietary allowance (RDA) for males aged 19-70 years and females aged 19-50 years is 1000 mg per day. Males 70 years and older and females 51 years and older are recommended to consume 1200 mg per day. 
Chloride: Recommendations for chloride range from 1800 to 2300 mg per day. Because chloride is a component of table salt (sodium chloride), it's uncommon for chloride intake to be low. 
Phosphorus: The estimated average requirement for phosphorus for adults is 580 mg per day. Fruit isn't a significant contributor to phosphorus intake, but most people get enough phosphorus in their diet, as it's found in most dairy, grains, and protein-rich foods. 
Best Fruits for Electrolytes
Bananas
Bananas are often known for being a source of potassium, and for good reason. Potassium helps balance sodium levels in the body. When it comes to fueling or replenishing after exercise, bananas are a popular and convenient option. They also provide easily digestible and unrefined carbohydrates, perfect for pre-workout or post-workout replenishment. 
Avocados 
Avocados are one of the top fruits for magnesium and potassium. They're also a great source of healthy, whole food unsaturated fats. Because they're low in carbohydrates, they're not going to provide pre-workout or post-workout carbohydrates. 
Cantaloupe
Cantaloupe is another great choice for potassium. It's also 90-95% water, which works as a team with electrolytes to keep you hydrated. Because cantaloupe is low in calories—at about 50 calories per cup—you can easily enjoy a few servings worth of electrolytes, water, and other nutrients. It's also a great source of beta carotene, which is the plant source of vitamin A.  
Oranges
Oranges are not only a source of potassium, they're also one of the fruits highest in calcium. This includes orange juice, which has nearly 500 mg of potassium per cup. 
Kiwi
Kiwis are high in potassium—a serving of 2 kiwis contains more potassium than a medium banana. They are also an excellent source of vitamin C, even higher than oranges.
Watermelon
Watermelon is a refreshing snack on a hot day. Due to its high water content, potassium, and carbohydrates, it's a great way to hydrate. Watermelon is another fruit that's low in calories—100 grams per serving—so enjoying a few servings can increase electrolyte intake. 
Strawberries
Strawberries are a great choice if you're looking for a fruit that's lower in sugar and calories but a good source of potassium, fiber, and vitamin C. 
Mango
Mangoes are a sweet treat which provide potassium along with other essential nutrients, like vitamin C. 
Papaya
Papaya has a similar texture to melons, and its high water content helps hydrate. It's a good source of potassium and vitamin C. It also naturally contains a digestive enzyme called papain, which may help reduce bloating before exercise. 
Dates
Dates are a great potassium source for a small amount of volume. They're also a dense carbohydrate source, which can be a helpful natural energy for exercise. Dates are very low in water content, so make sure to hydrate with water as well. While dates are high in potassium per a 100 gram amount, a typical serving size is smaller than this. 
Apricots
Apricots are one of the top fruits for potassium. Dried apricots contain even more potassium per serving, since the nutrients are more concentrated. Keep in mind that dried fruit lacks water, so it's important to drink plenty of water.
Electrolyte Content of Fruit
Fruit
(per 100g)
Potassium
(mg) 
Magnesium
(mg) 
Sodium
(mg) 
Calcium
(mg)
Phosphorus
(mg) 
Water
(mg)
Banana
358
27
1
5
22
75 mL
Avocado 
485
29
7
12
52
73 mL
Cantaloupe
267
12
16
9
15
90 mL
Kiwi
198
16
5
34
34
84 mL
Orange
181
10
0
40
12
87 mL
Watermelon 
112
10
1
7
11
91 mL
Strawberries
153
13
1
16
24
91 mL
Papaya
182
21
8
20
10
88 mL
Mango
168
10
1
11
14
84 mL
Dates
696
54
1
64
62
21 mL
Apricots
259
10
1
13
23
86 mL
The above figures are sourced from the USDA Food Data Central. 
Frequently Asked Questions
Which fruit contains the most electrolytes?
Because the category of electrolytes contains many of these minerals and because fruits have different amounts of each, no single fruit has the highest amount of every electrolyte. Some fruits have high amounts of certain electrolytes like potassium, including bananas, oranges, avocados, and kiwi. 
What are the best foods to maintain fluid and electrolyte balance?
Some of the best foods to maintain fluid and electrolyte balance include fruits, vegetables, nuts, seeds, dairy, and even salt. The best sources of electrolytes tend to be found in nutrient-dense whole foods. 
Which fruits and vegetables are high in electrolytes?
Some of the best sources of electrolytes in vegetables include potatoes, sweet potatoes, beet greens, spinach, lima beans, and most dark leafy greens. 
How can I increase my electrolytes quickly?
The quickest way to increase your electrolytes is through an IV, but outside of a medical setting, there are a number of options to consume electrolytes. These include fruits, fruit juices, coconut water, sports drinks, and electrolyte supplements. 
Which fruit keeps you hydrated?
Melons like watermelon and cantaloupe are great for supporting hydration, not only because they're high in water content, but they also help replenish electrolytes. Other fruits high in water and potassium include oranges, strawberries, and bananas. 
How can I get electrolytes naturally?
You can get electrolytes naturally through a variety of nutrient-dense foods including vegetables, fruits, nuts, seeds, legumes, and more. It's absolutely possible, and probably ideal, to consume your electrolytes from foods before supplements.